Get Ready Spotlights
by Mai Chue Ozcan, Como Postsecondary Pathways Coordinator
Although school ended on June 14, 2023 for Como Park Senior High School students, the work continued on for a highly dedicated group of Como teachers and counselors this summer, as they supported the Get Ready Summer Melt Advising initiative. According to the U.S. Department of Education "about 10 to 20 percent of college eligible students [nationally] melt away, most of which are low-income minority students planning to enroll in community college," (Summer Melt | U.S. Department of Education). To help combat this, the Get Ready program partnered up with capacity school staff and counselors to provide ongoing summer support to help students navigate through the unfinished challenges of financial aid, enrollment verifications, course registration, move-in logistics, and more. Here are staff testimonials from these education champions and their experiences as Summer Melt Advisers.
Testimony from Erik Erickson, Como History/Social Studies Teacher:
"My work with the Get Ready program this summer revealed the numerous barriers many students face when attempting to start ... Read more
Testimony from Jeff Caulum, Como English & ESL Teacher:
Before working with the Summer Melt initiative this past summer, it had never even occurred to me that students who had ... Read more
Testimony from Annie Strupeck, English & ESL Teacher:
The Summer Melt Initiative is a great way to connect students with support and resources, to help them achieve their life goals and move ... Read more
1 / 4
2 / 4
3 / 4
4 /4
Inspiration ran high in Brooklyn Center on July 31st as the Heritage Center was flooded with students, faculty, staff, and proud family members for the first annual Get Ready Student Success Scholarship Ceremony. The ceremony celebrated 226 students from thirteen Get Ready outreach and partner schools throughout the state who received a scholarship.
Festivities began with a social hour, where screens flashed with student quotations on the changes they wanted to make in the world. Get Ready's Program Innovation and Research Manager, Veronica Deenanath, and Director Patrick Milton delivered welcoming remarks, followed by an inspirational keynote speech by Commissioner Dennis Olson, who concluded with a reminder to students: "Be proud of yourself, because your family and community are proud of you."
Each school was represented with a celebratory opening from their Get Ready Pathways Coordinator or faculty member before scholars were applauded for their achievements. Students were also supplied with professional headshots to support their future career paths.
Each scholar received awards (ranging from $2,000 to $4,000) to attend a postsecondary education program within the state of Minnesota, as well as wrap-around services such as advising and access to support during their first year. In total, $800,000 was awarded to the 2023 class of Get Ready Student Success Scholars. The impact of this scholarship will boost our students' abilities to pursue their postsecondary pathways and persist.
"We are so proud of each and every one of you," Deenanath expressed in her speech. "By receiving this scholarship, scholars will have access to a success coach and resources to navigate the first year of their program. We recognize how stressful the first year can be and we want to do our best to fully support you. We will be one phone call, email, and text away on this journey with you. All of you are trailblazer, and I am looking forward to see the legacy that you will leave for the next generation."
This year, 91% of the Get Ready Scholars are students of color, 65% are first-generation college students, and 100% have demonstrated financial need.
The Student Success Scholarship is just one way that Get Ready strives to reach our goal of 100% graduation rate and enrollment in a postsecondary program, all while continuously supporting the students and families of Minnesota.
In July, the National Council of Community and Education Partnerships (NCCEP) hosted the 2023 NCCEP/GEAR UP Annual Conference in San Francisco. This event, known as the largest convening of GEAR UP professionals, attracts over 2,000 attendees from across the country every year, including 11 staff members from Minnesota Get Ready.
Themed "The Power of Possibility," the three-day conference featured daily keynote plenaries, 120 concurrent sessions led by industry experts, and special programs for The Parent Leadership Institute and The Youth Leadership Summit.
"What stood out for me is how strong and committed the GEAR UP community remains," shared Patrick Milton, Director of Get Ready. "We all struggled to reengage our students, families, staff, and partners over the past few years as the post-pandemic issues challenged us. But, the NCCEP team stepped up to enhance the program by introducing more content experts and inspirational speakers, leaving grantees feeling re-empower to double-down on guiding our students to success!"
"The NCCEP/GEAR UP Conference was reaffirming and grounding in the work that we do everyday to serve students and the State," said Jessica Yang, Program Supervisor at Get Ready. "It was great to connect with GEAR UP professionals across the nation and learn from others and share the incredible work we are doing." When asked about the impact of the event on her perception of Get Ready/GEAR UP, Yang shared, "Get Ready/GEAR UP is a national movement. We're here to work collaboratively together to serve students."
Attending the conference not only provided attendees with newly learned skills and resources, but also offered the benefits of team building and increased motivation. Morgan Barrett, the Executive Assistant at Get Ready commented, "The NCCEP Conference is a great way to connect with coworkers and other GEAR UP professionals. The team comradery and energy of the group feels renewed after returning and we feel ready to move into this next school year to help our students and reach collective goals."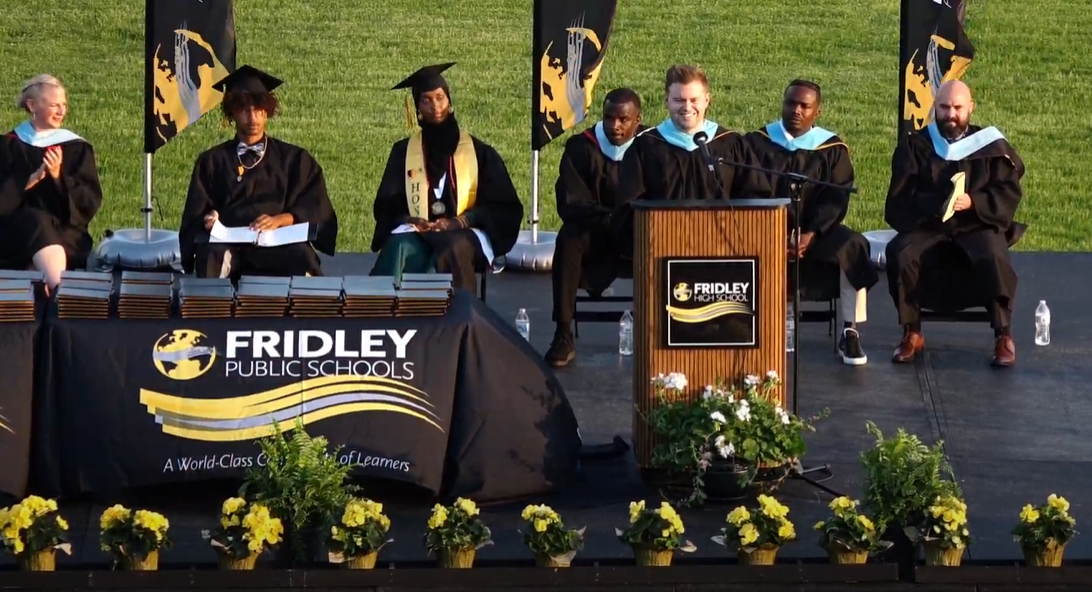 Matt Kiefer, the dedicated Pathway Coordinator of the Get Ready program at Fridley High School, received a heartfelt honor as the senior Class of 2023 selected him to deliver the staff speech at their commencement ceremony in June. Kiefer's unwavering commitment to the graduates since their freshman year earned him immense appreciation, beautifully expressed by the class emcee, who thanked him on behalf of the entire class for making a lasting impact on their lives.
In his commencement speech, Kiefer reciprocated his admiration for the students, "This job has afforded me so many great things over the past four years, but the greatest thing I have done is getting to know the students in front of me, the class of 2023. I have watched you grow from awkward freshmen trying to find your place at Fridley High School, to confident seniors ready to take on the world."
He imparted four invaluable pieces of advice to the graduates as they embarked on their new journey beyond high school. First, to be present – embracing the current moment and cherishing experiences. Second, to invest in those around them, recognizing the value of genuine connections and a supportive community. Third, to be kind – understanding the impact of small acts of kindness in the world. Lastly, he urged them to remember that they deserve to be happy, encouraging the pursuit of passions and fulfillment.
"I honestly don't know what this school is like without you in it. You all have been the constant in my life during my time here at Fridley High School," Kiefer reflected. "But I can guarantee you one thing: next school year, as I walk the halls, I'll still be smiling because I know you'll be out in the world making it a better place."
As Kiefer bid farewell to the Class of 2023, his speech left a lasting impression on both the graduates and the audience. His words encapsulated the transformative journey the students had undertaken during their high school years and encouraged them to embrace the future with confidence, kindness, and a commitment to making a positive impact in the world. The Class of 2023 is undoubtedly well-equipped for the next chapter of their lives, thanks to the support and guidance of a remarkable Pathways Coordinator like Matt Kiefer.
Click here to view Matt's speech and the Fridley High School 2023 Commencement Ceremony.
Click here for more featured stories...